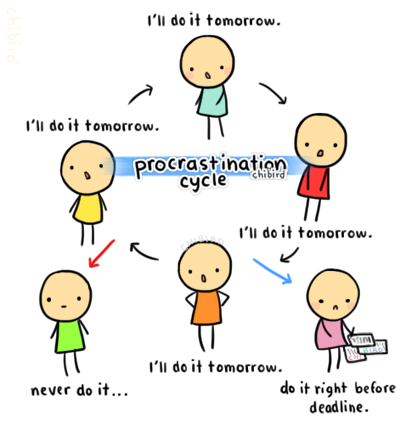 I've been slacking a little bit lately. I've got textbooks that I haven't cracked open yet, I have essays still in their beginning stages, and most recently, I didn't post a new entry on Wednesday like I was supposed to.
Procrastination is one of the worst things in the world. It can make even the most qualified person lose out on some great opportunities. For example, I have two scholarship applications due this month, and one is due in less than a week! But have I finished it? No...Which makes absolutely no sense! What's worse is that I want the rewards, but haven't put in enough work to claim them as my own.

I think we all have times like this in our lives. One week we're on our grind, and the next, everything is unbalanced. But we can't give up. We have to take everything one homework assignment at a time, because we'd all drop out of school if we didn't. I know now that I have to make better decisions in order to continue to be successful.